El laboratorio preferido por centenares de clínicas dentales en Europa
Con una trayectoria de más de 20 años de experiencia en el sector nuestro laboratorio es pionero en el implante de prótesis dentales siempre estando a la vanguardia de los últimos avances técnicos. Nuestra prioridad es atender sus necesidades para que usted y sus pacientes queden siempre satisfechos. Trabajamos directamente con odontólogos y sus clínicas para ofrecer el mejor servicio lo más rápido y lo más económico posible hoy en día. La gran calidad de nuestros productos no corresponde al bajo coste de nuestras tarifas. trabajamos adecuando las tarifas a los mínimos portes y los mínimos pasos intermedios gracias a técnicas innovadoras en el sector de la odontolo-implantología. Disminuimos costes y tarifas manteniendo la máxima fiabilidad y eficacia, garantizando unos resultados excelentes tanto en prótesis fijas como en prótesis totales o parciales.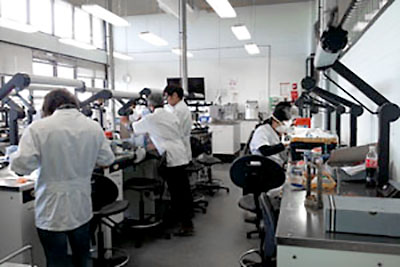 Dental-lab only works with the best brands in the market to guarantee correct results in the prosthesis.